evasys joins C-suite Executives at the Education Strategy Forum in Oxfordshire
evasys is delighted to be one of the carefully selected solution providers to attend the upcoming Further and Higher Education Strategy Forum.
Taking place at Heythrop Park in Oxfordshire over two days in mid-July, the Education Strategy Forum will be the first time evasys – and likely everyone else at the Forum – has attended an in-person event since early in 2020, before the pandemic began.
Dr Helena Lim, Head of Opportunities at evasys, commented: "Like every other sector, further and higher education has been starved of face-to-face interaction since the onslaught of Covid-19, while simultaneously never needing insight and support from peers more. I am very excited that the Education Strategy Forum will be my first event with my evasys colleagues, and I can't wait to meet educational thought leaders to hear what they think is the way forward for the sector."
By invitation only
The Education Strategy Forum (ESF) organisers have designed the event for C-suite executives and directors in further and higher education, and attendance is by direct invitation from the ESF team.
The event offers pioneering views on challenges in the sector and is a fantastic opportunity to gain critical insight and enhance your network of contacts.  The event format provides inspirational guest speakers, seminar sessions, formal and informal networking and group discussions, topped off with premium hospitality.
A number of hand-selected solution providers are also in attendance to enable meetings and consultation around challenges that institutions face and how specific technologies can alleviate pain points.  evasys will be discussing the benefits that digital survey and evaluation processes can provide to university leadership, professional services academics and students.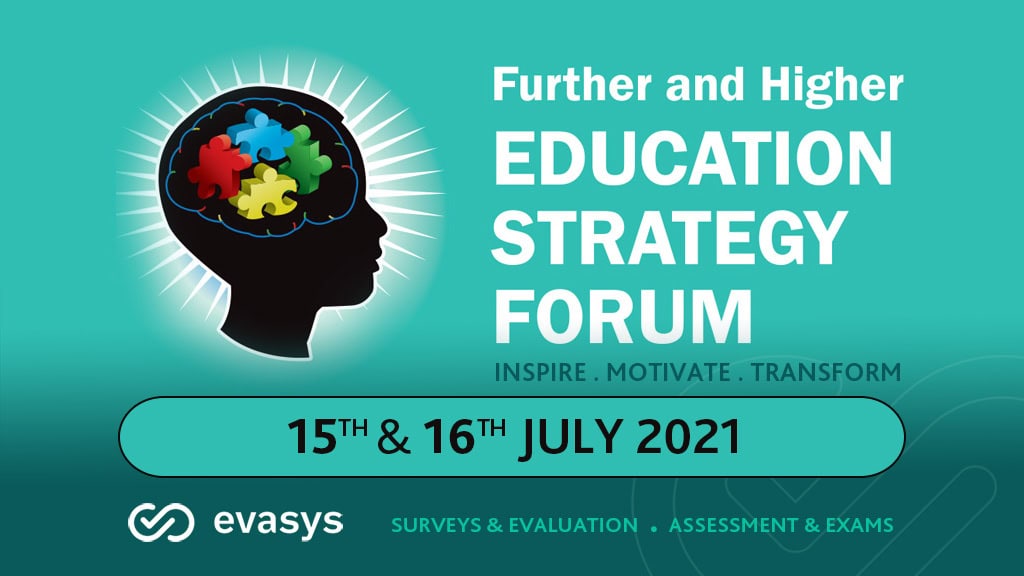 Where evasys makes a difference
The benefits of having a centralised, digital process for surveys and module evaluation are multi-faceted.

Obvious upsides are around efficiency and include reduced time spent by multiple staff members planning, designing, distributing, collating and analysing surveys – and the cost implications that go with that time. From a sustainability perspective, it's also far more efficient to remove the use of paper completely from survey and evaluation processes, particularly when a digital approach is more accessible for students, lecturers and administrators alike.

But one of the most useful benefits of implementing a system like evasys is the top to bottom overview of student satisfaction and sentiment. Aggregated and real-time reporting allows an institution-wide view of results, coupled with the ability to drill way down into specific schools, courses, modules or, even, lecturers.

In-built features allow you to create personalised dashboards of your most pertinent reports, and functions such as Closing the Loop provide a simple method of closing the student feedback loop at module level.

Complementing the rich features that have been designed based on feedback from partners in higher education over 20 plus years is the team behind implementing evasys at each client institution. 

Senior leadership has almost 50 years of combined experience working directly within the education sector, at universities all over the UK in roles ranging from teaching and learning, through student experience enhancement to senior management of university IT systems and processes.  All of this experience is wrapped up utilised for clients to establish best practice and meet individual institutional requirements from enquiry through deployment and into the ongoing partnership.

The technical and training teams have worked with more than 60 UK and Ireland institutions on implementation and training and have integrated evasys with student portals, student information systems, virtual learning environments, data hubs and various other IT tools commonly used in further and higher education.
It's not too late to join evasys at the Education Strategy Forum
If you are interested in attending this event to exchange ideas with peers, listen to thought leaders in the education sector and speak with technical solution providers about the challenges you are facing, contact the organisers to request an invitation.