London Met uses evasys to drive survey participation and reduce staff workload
London Met is a modern and vibrant university that puts its students at the heart of everything they do.  It's home to a diverse community of inspiring and determined learners, teachers and innovative thinkers.  Proud of its socially diverse community, the university has over 140 nationalities studying at one of their six schools.  
The challenge
London Met wanted a more efficient, accurate, qualitative, evidence-based approach to student insight and engagement.
With an inefficient set-up that didn't maximise the features and functions available, the existing method of running student surveys was managed within one report, by one staff member who then downloaded, data cleansed and disseminated individual portions of the master report to individual departments.
After considering a number of competitor survey platforms, the Academic & Quality Development team concluded that their existing evasys solution had the features, functionality and flexibility they needed.  Offering a more affordable option in the short term, evasys was easier to configure and set-up in a way that suited them for the long term development, compared to other platforms.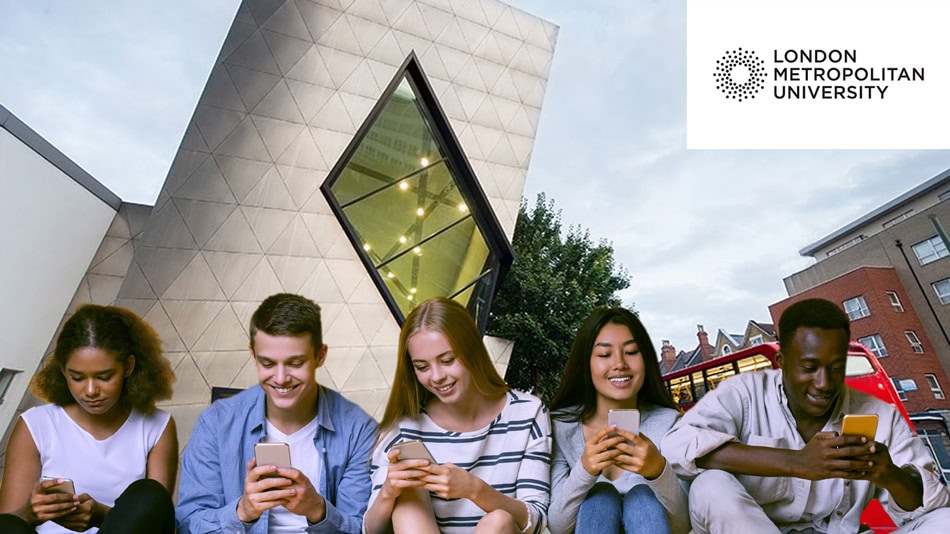 evasys had previously been under-utilised and under-licensed by the university but, after review, the Student Engagement Manager recognised the untapped potential of the system.  The goal was to use evasys to surface data-driven insights that would evidence the impact of student engagement.  
About London Metropolitan University
INDUSTRY
STAFF
STUDENTS
LOCATION
Higher Education
~400

~10,000 of which:

76% BAME
12% known disability

6 schools:
School of Art, Architecture and Design
Guildhall School of Business and Law
School of human sciences
School of social sciences
School of social professions
School of computing and digital media
"evasys has huge potential to really reduce workload, free up staff time, offer rich data, and make a material difference at London Met by providing the tools to support a quality enhancement culture. A lot of survey software can be clunky, time intensive, resource heavy and you can't actually do anything useful with the information once you've got it.  After initial configuration, evasys has made life easier for me and its already helping staff members be much more productive through greater access, transparency and ownership of data reporting." – Conor Murray-Gauld, Student Engagement Manager
The Solution – evasys Survey Automation Suite
Additional components were licensed on a pilot basis to enable the AQD (Academic Quality & Development) team to use evasys to deliver online surveys to multiple media accessible by students and to generate reports and insights that better suited their needs. They piloted the system using their Student Experience Survey (SES) and highlighted a number of their top features within evasys:
Student access. Surveys accessible to students within both the institutional VLE, Blackboard, and the student portal, myday
An unlimited user licence. This allowed for all teaching staff to be assigned modules directly, creating a much cleaner data reporting line and operational delivery.
The ability to automate emails and reporting to dramatically free up staff workload.
Following this pilot of the expanded evasys system, Student Engagement Manager, Conor, presented the evasys business case to the London Met's Learning and Teaching Quality Committee, and it was approved.
Conor commented: "If we spent the money on evasys, we could free up staff time to do other things as well as give staff ownership of their data and improve transparency and accountability, better demonstrate the impact we have on the student experience, and, in turn, improve the student experience through improved use of technology solutions."
The impact
The impact of evasys on the student engagement team has been significant.  The team were able to conduct surveys with much greater speed and effectiveness.   Confidence and buy-in of the solution grew when they were able to demonstrate a clear uptick in response rates, and that module leaders were able to manage their survey activity and receive their reports much faster than before.  The results from initial surveys using evasys were:
50% increase in the total number of completions of the Student Experience Survey. The team were able to gather much richer data and significantly more students saw it through to completion

5% increase in overall completion of SES with 50% more student responses vs previous year

Over 100% increase in participation of the Welcome Survey

95% of modules achieved student participation – 1,005 modules ran the survey, students participated in 955 of them

Increased staff productivity and engagement with survey work from beginning to end

Eliminated single point of failure and bottlenecks

Demonstrable, evidence-based impact measurement

Reduced quality assurance risk exposure
On the impact of the evasys survey platform, Conor said: "The university was delighted with the results of that first survey, it is massive step change for London Met. They saw an instant difference in uptake, staff morale and staff engagement.  I'm really impressed with the flexibility and the power at our disposal. You really do get out everything and more that you put in."
As well as improving student engagement and completion, evasys has increased staff productivity, freeing them up to focus on higher value activity and helping to remove bottlenecks in the survey process.  The system provided tools and support for academics who have stretched workloads, and made life simpler for staff to access the information they needed themselves, when they needed it.
For the first time, London Met included equality data into the survey, so they were able to get student satisfaction per question, by characteristics like BAME, women, LGBT+, disabled, etc, and this has surfaced some really interesting trends and patterns for the university.  The survey provided much richer data that was easier to breakdown and pull out into reports.
What's next?
Now that the Academic Quality & Development team has the functionality it needs from its evasys package, the university plans to continue the practice of embedding the system firmly within institutional processes, getting wider staff buy-in and encouraging additional teams to use it.   
London Met will be installing several component upgrades for Semester 2 which include:
Single Sign On (SSO) for the Staff Portal. A dedicated online area for survey process management and aggregated reporting.  Staff are able to access visual reports and drill-down tools for deeper data analysis.
SSO for students, allowing them to access a static page for all module level surveys.
Qualitative analytics component to allow for in-depth sentiment analysis.
Closing the feedback loop (for quality assurance, management of data post surveys and developing a quality ecosystem)
Quality assurance. Allowing managers to check if module leaders have shared their feedback with students, and whether students have rated the feedback.
Inclusion of additional datasets on participants that allow extrapolation with other university systems to give course level satisfaction based on modular data.
Additionally use of the survey software to run and support other key projects.
Conor outlines his hopes for the future of evasys at London Met: "We're planning for the platform to get to the point where the surveys essentially run themselves, where I'm only tweaking questions and making sure that the staff are uploading data sets, and the reporting changes accordingly.  We should be screaming about evasys because it's actually using learning and technology tools to improve the student experience.  It's what every team in the university should be doing, not just AQD."
"I'm really grateful and thankful for the support of the evasys team in helping me get this project off the ground.  I couldn't have done it without them."