Product Update: New dashboard for evaexam
The onset of COVID-19 meant that many more of our higher, further and professional education institutions required a remote, digital delivery system for assessments and exams.
Our assessment tool, evaexam, offered a simple solution straight out of the box and was well utilised by clients to facilitate digital assessments. However, there is always room for improvement and the evasys development team took the opportunity to review, improve and create a new dashboard for evaexam to help with challenges that the global pandemic highlighted.
Real-time tracking and monitoring of exams
Within the new evaexam dashboard, you can track examination activities and the status of individual examinees in real time.
From an examiner's perspective, this offers increased transparency and security when running exams, allowing them to see who has started the exam, who is still working, who has finished and if there are any problems – all in real time.
For participants, it is simpler to re-enter exams if, for example, a browser window is accidentally closed, the page has reloaded, or the computer has crashed.  Each individual's access password can be released easily to quickly restore access to the exam.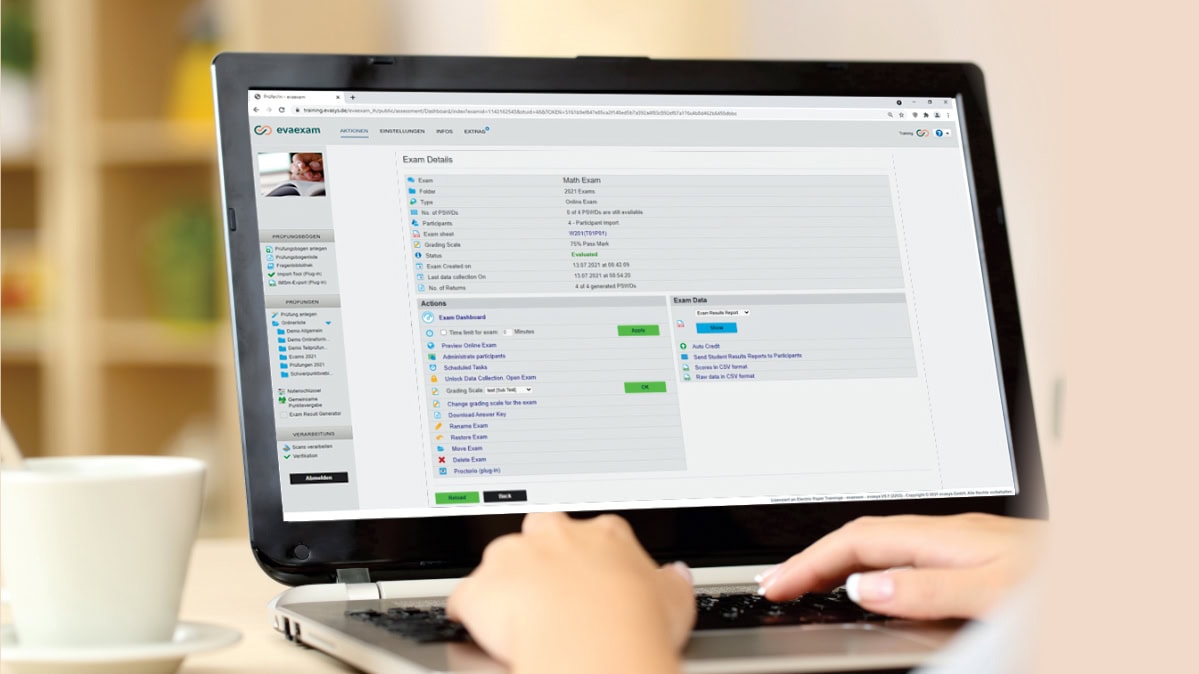 What are the features of the new evaexam dashboard?
The new evaexam dashboard provides a clear interface with a range of helpful features and functions for examiners and assessment managers. These include:
Tabular overview showing all exam participants, including information on individual passwords, start-time, time of last cache and submission time.

Status for each exam participant; online and active, not active yet, finished and submitted, not yet submitted or status unclear.

Lock/open password functionality, enabling examiners to lock the passwords of logged-out participants before the exam starts and unlock passwords that were accidentally used during the exam.

Restore data feature, ensuring that data can be restored from temporary storage if, for example, an exam participant is unable to submit their assessment independently.

Download log to export in CSV format an overview of participants' status and time information.
For further details on our new evaexam dashboard, or to find out more about evaexam in general, please contact us.