Switching to a digital approach for assessments
An increasing number of schools, colleges and universities are switching to a digital approach for assessments – whether it is quizzes, tests, or exams.
And it's not just the current pandemic that is driving a need for change. UK education body Jisc has been calling for an overhaul of the current exam system at colleges and universities since the publication of a report in February 2020.
Whether seeking to make efficiencies, creating a safer environment for assessment, or simply offering students the online accessibility that they have come to expect, there are many good reasons for moving assessments online.  Here's our top five:
1. Meet students where they are

Sometimes it's not practical or necessary to bring a whole group of students together in one room for assessment or examination.  And right now, in the midst of a pandemic, it's just not healthy.

Today's student has an expectation that the tools they need for successful learning will be available to them digitally, on a device of their choosing.  Why should "written" quizzes, tests, and exams be any different?

With a secure, online assessment tool – that can be proctored as required – students can answer multiple choice and essay-type questions from wherever they may be; on smartphone, tablet, laptop or PC.

While digital exam and assessment solutions can be used standalone, an ideal solution would be to integrate the tool with a platform that students are already familiar with, such as the Virtual Learning Environment (VLE) or student portal.  This way, tests of all kinds can be accessed through the principal student platform and results can be automatically synced to all relevant systems.

2. Reduce workload for staff

As with the digitising of any process, one key benefit of online assessment is efficiency.  From the auto-marking of multiple choice questions through to immediate reporting on question analysis and grade distribution, a digital examination tool frees up time for faculty and staff with automation.

Any digital assessment solution worth its salt will also easily integrate with other institutional systems, such as the VLE or Student Information System (SIS), meaning that data syncing between systems negates any requirement for manual upload of student and assessment information.  For those multiple choice or true/false questions, the auto-marking feature can generate an instant pass/fail report to the candidate immediately after the assessment is completed.

And with students completing assessments online from wherever they happen to be, there's no handing out of papers and no human proctoring required.
3. Provide flexibility for markers

Aside from the joy that is the auto-marking of multiple choice questions, an online assessment solution also offers flexibility around marking open questions.

An automated answer sheet can be generated for examiner review and marking can be completed online, including marking instructions if needed as part of the tool.

The possibility of marking "horizontally" is another benefit of digital assessment.  Rather than marking one paper at a time from beginning to end, a marker can easily navigate through all answers to each individual question, going through all the question 1 responses, all the question 2s and so on. 

In addition to keeping the marker focused on one question at a time, this method has the knock on effect of being fairer and more consistent for candidates, as it removes any unintentional bias that may come from a good or bad answer to a previous question.

4. Enjoy fringe benefits

While your primary goal in digitising assessments may have been efficiency or in reaction to COVID-19, a fantastic by-product of using an online assessment tool is the rich data that is gathered for each and every student interaction.

You will have the ability to compare and contrast data from individual questions and responses, improving understanding of how questions are perceived and how easy or difficult they may be across all participants.

If you've set a time limit on a question and the majority aren't managing a correct answer, the question may not be clear.  If close to 100% of participants are answering correctly in super quick time, perhaps that question is too easy.

5. Reduce environmental impact

It goes without saying, really, but we will say it anyway – just think of the volume of paper that won't be used if quizzes, tests, and exams are digital!  Giving 60 students one 8 page exam paper each uses almost a full ream of paper. If you gave 15,000 undergraduates 4 exams per year on papers of 6 pages, you would use 360,000 sheets of paper – that's 720 reams!

Additionally, with an online assessment solution, students can sit exams from anywhere, meaning that the environmental impact of students using cars, buses or trains to travel to exam halls is negated, too. And let's not forget the cost of building and maintaining exam halls.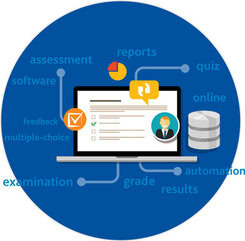 All the tools needed for secure online exams
A good digital exam and assessment solution will provide you with all the tools needed to run quizzes, tests, and exams securely, safely and efficiently across the entire institution.
To get set up, a system like evaexam provides examiners with an easy dashboard for writing questions and uploading answers for automated marking, while students can access assessments through web or mobile, wherever they are and through the systems they routinely access.
If you would like further information or a personalised demo about evaexam,
evasys
's online assessment solution, please
contact us.