Why aren't more universities using Net Promoter Score as a key metric?
I speak with professional services staff and academic leaders in higher education across the UK and Ireland on a daily basis.  We cover a multitude of topics, including current challenges around success metrics and enhancing student engagement. These conversations have got me wondering; why aren't more universities using Net Promoter Score (NPS) as a key metric?
With an increasing number of universities adopting a more commercial approach to how the institution is managed, why not adopt a more commercial approach to measuring customer satisfaction too?
Of course, by "customers" I mean students.  I worked at the coalface of managing student systems in universities for more than 20 years and there was often consideration of the need for a focused temperature check on student satisfaction and engagement beyond the usual NSS-orientated "Overall I am satisfied with the quality of the course" (or module).  In-depth surveys and module evaluation absolutely had (and have) their place, but an instant measure of overall satisfaction was trickier to achieve.
Whilst talking with colleagues in higher education, it has started to resonate with me that using NPS as one of the measures of student satisfaction may have a lot of value.
What is NPS?
Commonly referred to as NPS, Net Promoter Score is a customer experience measurement that is used to predict the growth of a business.  Scores range from -100 to 100 and are calculated using the answer to one critical question via a 0-10 scale:
How likely is it that you would recommend (insert brand or organisation) to a friend or colleague?
Respondents are broken down into Promoters, Passives or Detractors, based on the score given:
0-6 – Detractors: dissatisfied and have the potential to damage the brand through negative word of mouth

7-8 – Passives: satisfied but unlikely to recommend

9-10 – Promoters: Loyal customers who will refer others
Calculating NPS is simply ignoring the Passives and subtracting the percentage of Detractors from the percentage of Promoters, ending up with a score between -100 and 100.  Obviously, the closer to 100, the better your Net Promoter Score.
How can evasys help an institution to measure NPS?
If an institution partners with evasys for student surveys and module evaluation, then NPS calculation is a built-in feature just waiting to be deployed.
Within evasys, institutions can include a 0 to 10 point scale NPS question within a wider course or module survey – using a question such as " I would recommend this module to other students" – and evasys calculates and presents the NPS at institution, department, course or module level.  This way, student satisfaction scores can be collected consistently across each touchpoint and aggregated up to allow an institution-wide picture – and an overall Net Promoter Score.
The NPS is also displayed on the Instant Feedback Reports within evasys, so that lecturers, heads of department or professional services staff have immediate access to the score.  And, if the institution chooses, students can also have sight of the current NPS for their modules, courses, schools and university.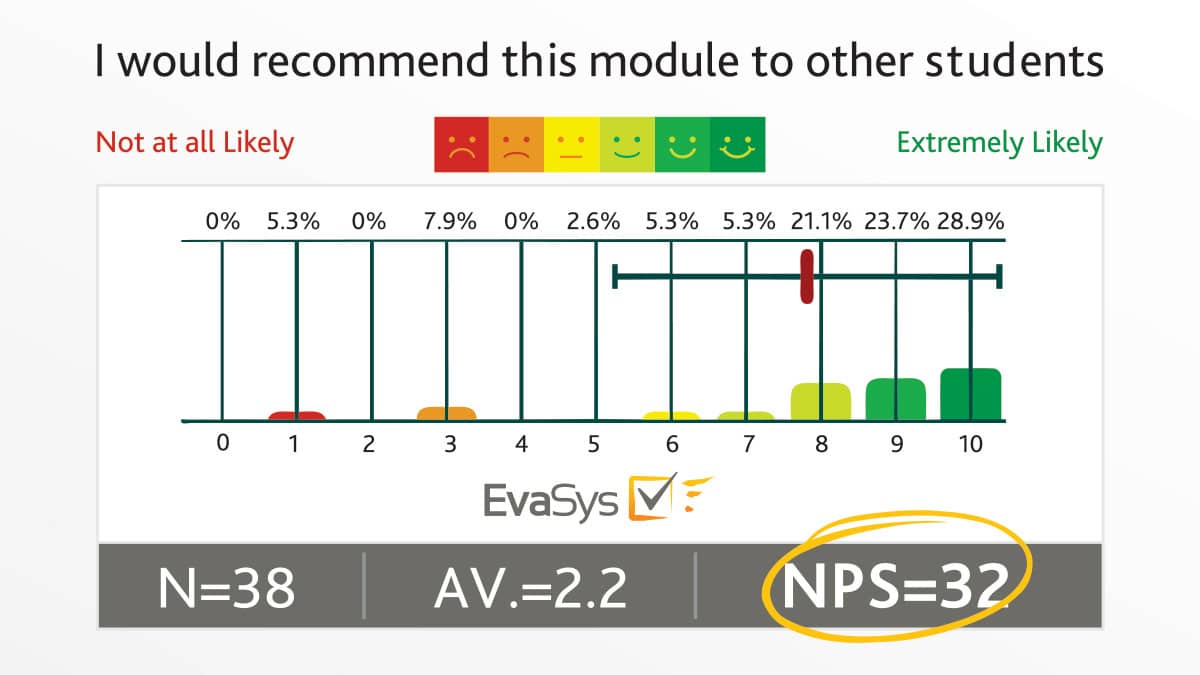 How can I improve the Net Promoter Score?
It is common practice to accompany an NPS quantitative question with an open-text, follow up question to get to the root of why that individual has scored as they have. evasys can display the free-text question prompt when the score is less than, for example, seven.
Organisations can then review this qualitative data to identify trends and address common issues that affect satisfaction levels.
The qualitative responses also link directly into the evasys AI-powered sentiment analysis tool, which automatically collates themes from open-text questions and provides a word cloud (and CSV file) with sentiments divided into positive, negative and neutral groups.  This allows an overview of the balance of feeling towards the survey matter, or gives the ability to drill down into each sentiment or phrase to understand the detail of the qualitative feedback received, and plan for improvement accordingly.
Is NPS a good measurement in higher education?
Well, yes, although it will always be debatable. While there are already a multitude of national, regional, institutional and departmental surveys in use across higher education, NPS offers fast, frictionless feedback from students – you don't have to include it as part of a wider survey; it can be issued standalone for a super quick overview of the module, course or anything else you would like to rate.  Additionally, NPS can potentially offer predictions of what's to come in national surveys such as NSS or ISSE.
NPS is a globally recognised metric and using a good NPS score in marketing and communications to students, staff, employers or industrial partners provides a quick, positive frame of reference that positions your institution well.
In Conclusion…
Whatever your NPS, including that additional all- important, open-text, follow up question will provide you with valuable data to begin taking action for improvement.
For further details on the evasys NPS feature, or about our wider survey and evaluation platform, please contact us.
Bruce Johnson is the Managing Director at evasys and has 20+ years of experience working within both large and small UK universities, including 14 years heading Student Systems at a Russell Group University.